It was only a few weeks ago that I wrote a piece
defending Houston Nutt's loss to Jacksonville State
. The team was thrown for a major loop where they were told that their new quarterback wasn't, then was, eligible for that weekend's game. I felt like it was unfair to Ole Miss, as their game conditions and goals were altered by the NCAA's mistake, and it was a large element towards their loss that weekend.
This time, I've got no one (that's not a Rebel) to help shoulder the blame.
Ole Miss is bigger, stronger, and faster than the Vanderbilt Commodores. With that combination, you should win football games.
Instead, Ole Miss was never able to establish any kind of offensive consistency or purpose. Time and again, Jeremiah Masoli would scramble, looking for a slot or bubble screen that Vanderbilt was prepared for. And I'm sure at some point in the day Rebel fans were checking the want ads to see if they could find Dave Rader another job selling furniture.
And on the occasions that Rader, Nutt, and Masoli did put themselves in scoring position, twice were sure touchdown passes dropped by Ole Miss backs.
Ole Miss was so bad Saturday, that during a fluff sideline interview with the Dean of Students - a guy named 'Sparky' - said that Ole Miss should find a mascot that can tackle because the team needs the help.
That's embarrassing.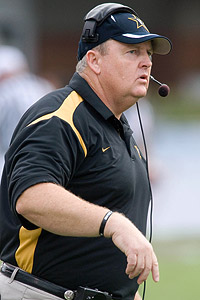 There's Robbie, riding the
'W' Train.
At least Robbie Caldwell, who got a Gatorade shower out of the deal, was excited...
@RobbieCaldwell: Great win today for the Dores! We are riding the "W" Train back to Nashville!
But the whole thing was a disaster for Ole Miss, start to finish. Those of us watching on television were sure to notice all the empty seats at Vaught-Hemingway Stadium. Now, I understand some of those sections were Vanderbilt's visitors sections, but from my television screen, I saw plenty of prime seats available between the 20 yard lines. And the end zone? A ghost town.
When you mix all of these instances into one bowl, it's an ugly smelling stew for Ole Miss.
Before the game, I had been planning on writing something for this game. I was going to take the angle of the possibilities for redemption for this Ole Miss team, and because of their struggles with Masoli early, it could be a good story to watch for the rest of the season.
Of course, I thought Ole Miss was going to WIN this game. Foolish me.
One of the items that I had ready to go for what I had planned was how in 1999, the Alabama Crimson Tide had been able to overcome an early-season loss to Louisiana Tech and rebound to win the Western Division, and beat Florida in the SEC title game (their second win over Florida that year).
The point was going to be that there was hope for the season, and now that SEC play was here for Ole Miss, anything was possible. They had a playmaker of elite ability, and that Ole Miss fans should not feel like their season is over.
Well, now, I'm here to tell you...
Ole Miss' season is OVER. OH-VAH.
On a day that Ryan Mallett and #13 Arkansas went to Athens and beat the Georgia Bulldogs on a last minute drive, Razorback fans are beating their chests and shouting their "I told you so's" in regards to Houston Nutt.
I believe, before this year, those chants had fallen upon deaf ears, as Ole Miss fans chalked up those taunts to a jilted fan base who didn't appreciate who they had.
But after today, those in Oxford may start taking those taunts with a little more credibility.