Great football Saturday. It was a long one - as I decided to act like I was 22 years old for about 48 hours. Stayed out until 4:30am Friday night - then woke up and left Birmingham for Tuscaloosa at 9:30.
Every muscle in my body is sore.
What an incredibly long day it was. From my cloudy state of mind, I've got a few game thoughts to share: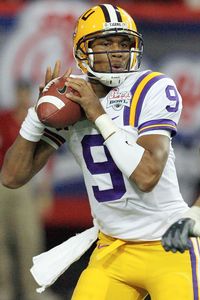 1) Les Miles likes Jordan Jefferson more than he likes Jarrett Lee.
And that's why he was the starter going into the season. When it really got to nut-cutting time Saturday night, it was Jefferson - not Lee - behind center. Keep in mind I haven't seen a replay or a recap, but I don't remember Lee playing after his second half pick.
It's unfortunate for Lee, because all the kid did was win, but I would not be surprised to see Jordan Jefferson starting for LSU from here on out.
2) Jim McElwain has me totally frustrated.
I'll need to go back and confirm this, but why did Alabama abandon their hurry-up offense after the initial drive? If they didn't, it felt like they did. Bama's first drive, which yielded no points on a missed field goal (more on these coming up), was actually a very good looking drive that - save one play - that had LSU on their heels and Bama in plus territory in just two plays.
What did the Tide in during the first series was a 1st and 10 that lost about six, and Bama didn't recover. I have not gone back to watch the game yet, but I don't recall them using this hurry-up again. Aside from that one play, it was a solid drive that just didn't result in points.
Why abandon this?
3) AJ McCarron may not be ready for Prime Time.
Not to say that he isn't a good QB. He is. But just a good one, not a great one. I just saw that, against an elite defense, there were several rushed throws (those sideline outs felt like they were in the air forever), and never got the impression that the Tide coaching staff was confident enough in either McCarron or the receiving corp to go out and win the game.
I'm sure there were some plays and statistics that prove me wrong on this - but I never felt confident that McCarron would 'win' the game for Bama. Just a feeling.
4) That being said - why not go Dexter McCluster with Trent Richardson?
Better yet - why not go Mark Ingram? What I'm saying here is that a few years back, Dexter McCluster was the
only
player Ole Miss had. Although it took him 2/3 of a season, Houston Nutt finally figured out that on every play, he either had to give the ball to McCluster or make it look like they were giving him the ball. Mark Ingram would tear teams up through the wildcat with continuous 5/6 yard games.
Give it to him.
Why not just do this with Trent? This was the national title game, after all. Give it your best player every play. No need to fool around.
Perhaps that's a little simplistic, but if you don't think a game plan consisting of giving it to Trent Richardson or faking it to Richardson every play would be effective, then I think you'd be wrong.
As I'm writing this - I've gotten to a DVR recording of the game and have started watching. Trent is running like a truck. I'm seeing 23 carries for Trent - should of been 40. Not kidding.
5) That Maze wildcat pass was a terrible playcall, terrible idea all-around.
I can understand being aggressive, and don't really have a problem with that. But this again takes your best player out of the action. Why, on a drive that had Bama driving down the field - with a Heisman candidate at your disposal - you'd take that risk is just a bit much for me. (And I'm a guy who likes the the A-11.)
That's really it. I'm not piling on kickers, which I understand is happening in some other spaces. Those kids know that you don't score if you don't put it through the uprights.
The BCS shows the Tide at #3, with Stanford hanging out at the 4 spot. I spoke with my old radio bud (and fellow Annistonian) Ryan Brown of WJOX this evening who explained to me that this situation makes a rematch very much a possibility. You obviously need Oklahoma State to drop a game and Oregon to beat Stanford.
Where it would get the most bizarre is that if Arkansas beat LSU (including the OK State & Stanford losses). That'd give you a three-way tie in the SEC West. Which gives you a really weird tiebreaker. There are eight tiers to the tie break, and I believe this situation would push it all the way to #8:
The tied team with the highest ranking in the Bowl Championship Series Standings following the last weekend of regular-season games shall be the divisional representative in the SEC Championship Game, unless the second of the tied teams is ranked within five-or-fewer places of the highest ranked tied team. In this case, the head-to-head results of the top two ranked tied teams shall determine the representative in the SEC Championship Game.
Which would mean that (again, Arkansas has beaten LSU, and LSU was still ranked ahead of Arkansas in the BCS) Alabama could be the #1 BCS team in the country, and would sit out the SEC Championship game. LSU would win that, and then (very likely) head to New Orleans to for the BCS Championship game against... #1 Alabama.
Weird how this works, right? I had to have Ryan explain it twice to me so that I was sure.
But even without the Arkansas upset, if OK State and Stanford fall, it doesn't look like there'd be any other option than the rematch.
So not all hope is lost, Bama fans.
It's not exactly how you would have planned it, but it seems like it would behoove Crimson Tiders to become Sooner and Duck fans. Bourbon Street could still be in your future.
And of course, if you'd like to follow me on Twitter, you can do so: @harry_long. I'd also appreciate it if you 'liked' the Facebook page of A Total Waste of Blog. You can do that at the top right of this page, or you can do it here. And you see all those buttons under the title of this post? That's how you share this thing. Get to it.